Baptist Health Medical Group
Louisville, Kentucky, KY, United States
(on-site)
10 days ago
Baptist Health Medical Group
New Albany, IN, United States
(on-site)
10 days ago
Baptist Health Medical Group
Corbin, KY, United States
(on-site)
10 days ago
University of Kentucky
Morehead, KY, United States
(on-site)
5 days ago
University of Kentucky
Lexington, KY, United States
(on-site)
5 days ago
Owensboro Health
Owensboro, KY, United States
(on-site)
8 days ago
University of Louisville
Louisville, KY, United States
(on-site)
26 days ago
Baptist Health Medical Group
Louisville, Kentucky, Kentucky, United States
(on-site)
Description
RADIATION ONCOLOGY - BAPTIST HEALTH HARDIN HOSPITAL IN ELIZABETHTOWN, KY- PART TIME - RECRUITING INCENTIVES UP TO $142,000
-
Baptist Health Medical Group is seeking a part-time BC/BE fellowship trained Radiation Oncologist to join our Cancer Center in Elizabethtown, Kentucky. Join an existing group of providers in a well-established market. Team is comprised of another full-time Radiation Oncologist, full-time radiation oncology trained APRN and additional support staff including experienced radiation therapists, nurses and medical assistants. Employed onsite physics and hybrid dosimetrist support staff along with social workers, dieticians, clinical trials and therapy support services. The Cancer Program is currently accredited by the Commission on Cancer with plans for additional accreditation through ACR.
-
Baptist Health Hardin will be relocating the Radiation Oncology department in the fall of 2024 to our new on campus Cancer Center in a brand-new medical pavilion. This facility will have two linear accelerators (1 Halcyon 1 Trubeam), an HDR suite and shell space for a third linac. Radiation Oncology clinic and therapy will be located on the first floor of the center along with our resource center, Therapy center which will focus on speech and lymphedema therapies and additional support services including an in-house specialty retail pharmacy with oncology residency trained pharmacists. Upstairs there is space designated for 6 medical oncologists, oncology clinic and an infusion center.
-
Support services also include dietary, PT/OT/ST, cancer registry, breast/lung cancer navigation and Pet Therapy.
-
INCENTIVE OVERVIEW
-
Competitive compensation and benefits package - Up to $142,000 in recruiting incentives including starting bonus, student loan repayment, residency/fellowship stipend, and relocation/moving allowance
Two-year income guarantee with opportunity for additional productivity and quality bonuses
Medical, dental, vision, life and disability insurance
Retirement savings plans — 401K and 457(b)
Paid CME/licensure and malpractice insurance/tail coverage
Complimentary Professional Student Loan Debt Repayment Advising
Physician Mentorship Pathway for growth and development
EPIC- electronic health record system integrated throughout all hospital and practice locations
Immigration support, if needed
-
ABOUT BAPTIST HEALTH MEDICAL GROUP
Baptist Health ranks in 150 top places to work in healthcare, according to Becker's Hospital Review
-
Multispecialty physician-led medical group
8 hospitals with over 1,500 providers, including 800 physicians and more than 700 advanced practice clinicians.
Comprehensive administrative and operations support teams
Physician leadership councils
-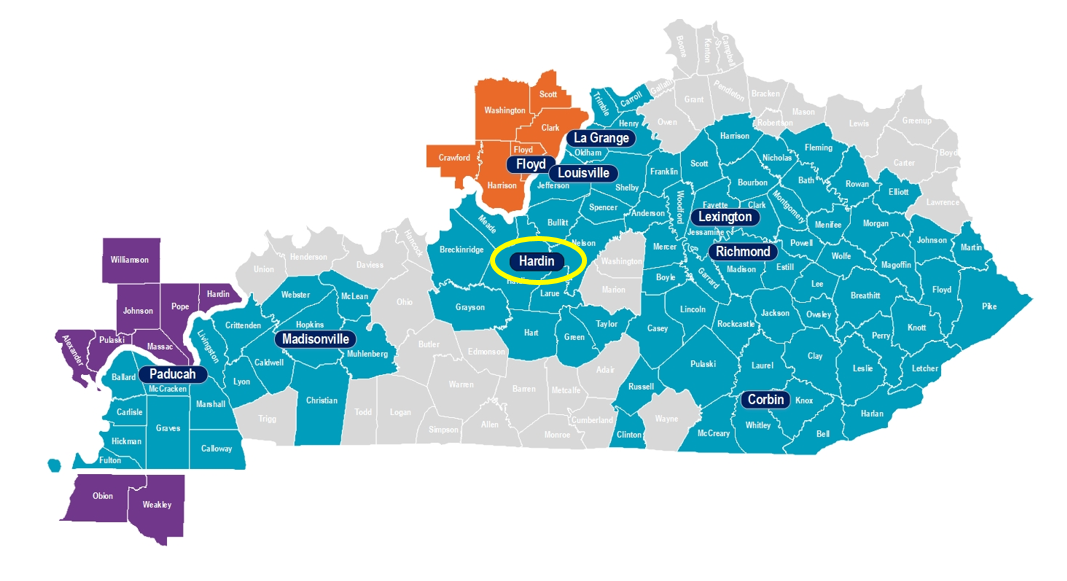 -
ABOUT BAPTIST HEALTH HARDIN HOSPITAL
-
Baptist Health Hardin employs over 2,850 staff and has more than 40 locations providing clinic and diagnostic services. The hospital is a 300 bed regional facility. The service area of ten (10) counties serves a combined population of over 450,000 in Central Kentucky. The location is 40 miles south of Louisville on Interstate 65. The hospital is the 12th largest in the state, with the second busiest Emergency Department. The Baptist Health Hardin medical staff is comprised of over 450 physicians / providers representing 32 specialties.
-

-
ABOUT ELIZABETHTOWN, KENTUCKY
-
Fastest growing community in the state of Kentucky with great public schools, dining, and entertainment options.
Baptist Health Hardin serves Hardin County and nine surrounding counties totaling 450,000 residents.
Ford Motor Company is building two electric battery plants, creating 5,000 new jobs, and is the single largest economic investment in the history of the state of Kentucky. The first plant is expected to open in 2025, with the second following in 2026.
Kentucky's largest cities, Louisville and Lexington, are within a short drive of E-town. Louisville Muhammad Ali International Airport offers flights to 30+ destinations nonstop and 460+ places with just one stop.
Elizabethtown's cost of living index is lower than the national average.
Opportunities to enjoy nature abound in and around Elizabethtown, with numerous accessible and well-maintained parks, nature preserves, and hiking/ biking trails.
Click here for more information about Elizabethtown, KY.
-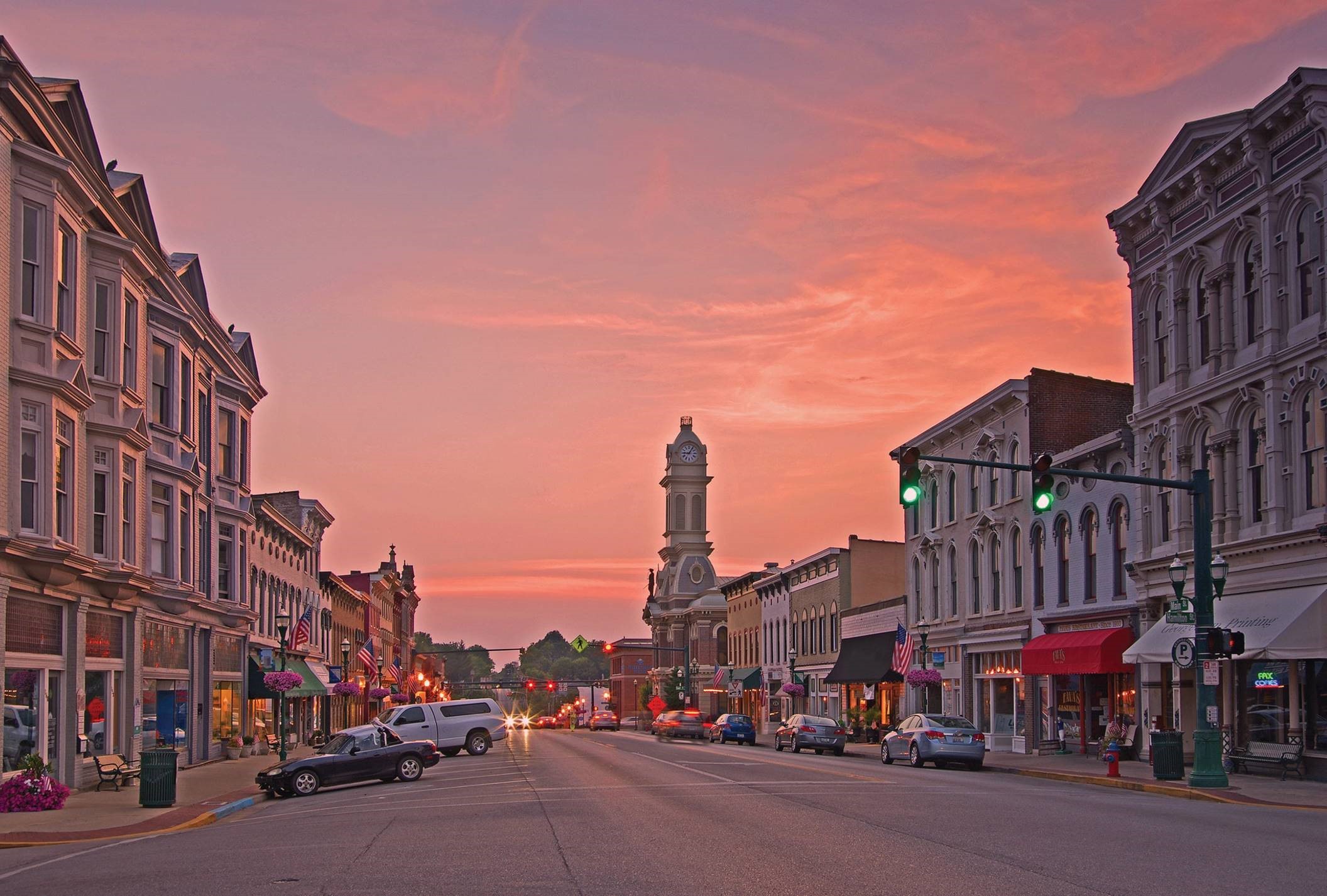 -
EEO Statement: Baptist Health is an Equal Employment Opportunity employer, and seeks to employ individuals without regard to race, color, national origin, gender, sexual orientation, gender identity, age, disability, marital status, citizenship status, military status, religious or political beliefs, protected veteran status, employment status or any other protected class identified in any federal, state, or local law. Baptist Health specifically encourages minority, female, disabled, veteran and other candidates from diverse backgrounds to apply and strengthen our team. Please note that Baptist Health is a drug-free workplace and employment with Baptist Health is subject to post offer, pre-employment drug testing.
-
NOTICE OF NONDISCRIMINATION AND ACCESSIBILITY TO SERVICES
Persons with hearing and speech impairments can contact Baptist Health facilities by using the Kentucky Relay Service, a toll-free telecommunication device for the deaf (TDD). For voice to TDD, call 800.648.6057. For TDD to voice, call 800.648.6056.
Job Information
Job ID: 70000078
Workplace Type: On-Site
Location:
Louisville, Kentucky, Kentucky, United States
Company Name For Job: Baptist Health Medical Group
Position Title: Radiation Oncology - Elizabethtown, KY - Part Time Opportunity - Recruiting incentives up to $142,000
Job Function: Physician
Job Type: Part-Time
Job Duration: Indefinite
Min Education: MD/DO
Please refer to the company's website or job descriptions to learn more about them.
Radiation Oncology - Corbin and Louisville KY and...
Baptist Health Medical Group
Corbin, KY, United States
(on-site)
Radiation Oncology (Medical Director opportunity)...
Baptist Health Medical Group
New Albany, IN, United States
(on-site)
Employed Radiation Oncologist Opportunity in KY
Owensboro Health
Owensboro, KY, United States
(on-site)
Radiation Oncology - Faculty Opportunity
Loyola University Medical...
Maywood, IL, United States
(on-site)